HDPE Membrane
is the low permeable synthetic membrane liner and geotechnical engineering materials which is widely used for solid waste containment, mining and water containment applications.
As a waterproofing liner, HDPE membrane is favored over other materials for its modest economic and operational advantage.
Furthermore, hdpe geomembrane is a very stable polyolefin that is chemically inert and able to maintain long-term integrity and durability. These properties make the HDPE membrane a popular choice to waterproof and mining, landfill and other containment applications.
Our Mongolia customer sent us inquiry of HDPE geomembrane for his mining waste containment project. We provided him more details of mining project design. Then he decided to visit our factory and discussed about his mining project in detail.
HDPE Membrane Mining Project Specifications
The mining project size – 58m*103m

Height – 18m

Total smooth geomembrane quantity – 13066m

2

Geomembrane thickness – 1.5mm

Each roll size – 7m*100m

Designer and welding engineer are included for the project
After more than 2 two month, we finished this project together.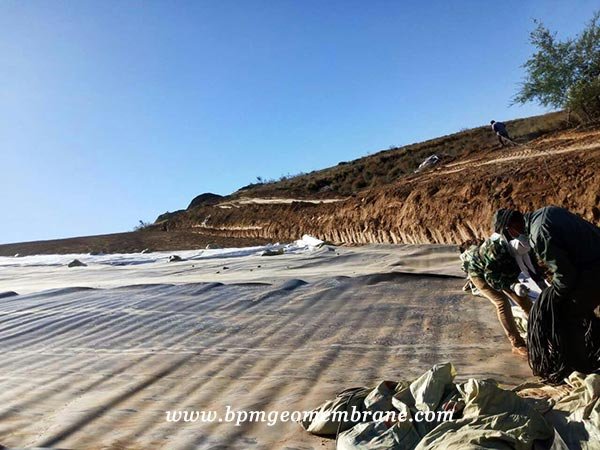 BPM HDPE geomembrane liner had been passed third party testing and got GAI-LAP testing report. There are more than 12 customers use our smooth geomembrane for mining projects.
BPM is not only provide best quality geomembrane products but also installation service for secure and reliable mining project.
If you have any questions or inquiries,

please contact us at sales@bpmgeomembrane.com