Geotextile Non Woven Cloth for Road Construction in Australia
Geotextile non woven

cloth is the important kind of geotextile which can be made by polyester and polypropylene filament by needle punching and thermally bonding process. After needle punched and spun-bonded technology process, geotextile non woven cloth can form good features such as high tensile strength, excellent permeability, high elongation, durable CBR puncture resistance and UV stabilized. Our non woven geotextile fabrics are widely used for road construction, railway, tunnel, airport, etc.
In high grade surface road such as in old cement concrete pavement and old asphalt pavement, road reflection cracks problem is serious. The geotextile can be used in this old road, it can lower the possibility or delay of the old pavement cracks in the asphalt overlay, and meanwhile reduce the old road rut and low temperature cracks, then improve the road lifespan. The geotextile non woven cloth mainly function as separation, filtration, reinforcement, protection, drainage, erosion control, etc.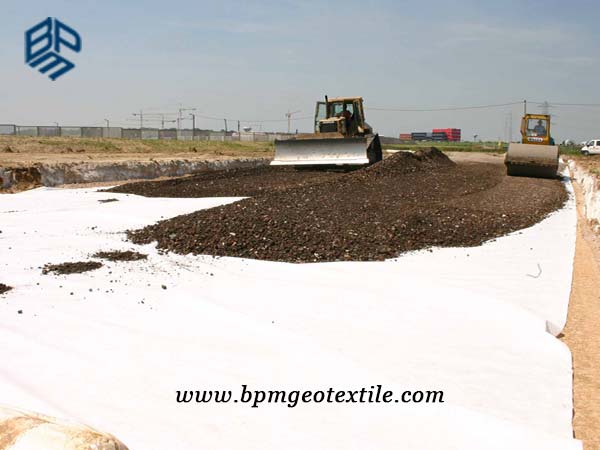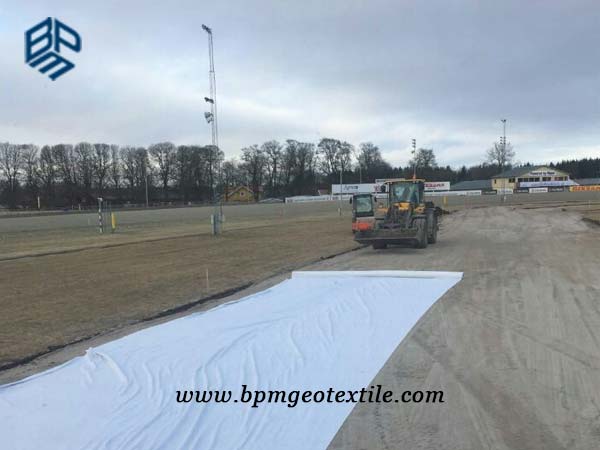 Australia customer sent us inquiry of 200gsm polyester nonwoven geotextile, their application is used for old road reconstruction. Their road is in 4m width, but our rolls are often in 6m width. So we have to cut it off into 4m and 2m.The remained 2m geotextile rolls can be used for other application like pipe wrapping.
After several weeks of sample confirmation, they decided to buy one 40HQ container of 200gsm polyester non woven geotextile fabric.This month the goods will arrive in their port.
Geotextile Non Woven Cloth Specifications
200g/m

2

,4m*100m,

Paper tube inside

wrapped by woven plastic cloth.

Road construction
About BPM
BPM had provided many types of effective and states of the art geomembranes, geotextile and other geosynthetics to over 36 countries. Our main customers are from Australia, France, Sweden, UK, Hong Kong, Hungary, New Zealand, Poland, Mexico, Ecuador, Brazil, Pakistan, Bangladesh, Thailand, Vietnam, Malaysia, Indonesia, Singapore, Philippines, Sri Lanka, India, UAE, Saudi Arabia, Qatar, Kenya, Ghana, Ethiopia, Somalia, Nigeria, South Africa, Swaziland, Mongolia etc.
BPM is also providing professional design and installation service. OEM and ODM are also available. If you have any questions or inquiries, please fill and submit the following form, we will reply as soon as possible.