Composite Geomembrane for Artificial Lake in Weinan
Composite geomembrane
is the combination of geotextile with geomembrane by calendering and hot-melt technology. The composite geomembrane product provides the advantages of both geomembrane and geotextile. The geotextile layer increases essential tensile strength and tear and puncture resistance. The geomembrane layer provides anti-seepage properties. A piece of cloth refers to a layer of geotextile with a layer of PE film attached. Two cloths and one film refer to a layer of PE film sandwiched between two layers of geotextiles. Two membranes and one cloth refers to a layer of geotextile between two PE films. One of the most commonly used is a two cloth-film composite impermeable membrane.
Composite geomembrane has many advantages, such as weaving type geotextile composite, can reinforce geomembrane, protect film from damage by external force during transportation or construction. Composite with non-woven fabric can not only strengthen and protect the geomembrane and can play the role of drainage exhaust,while increasing the coefficient of friction of the membrane surface. Composite geomembrane has extensive application in water conservancy projects and traffic tunnel projects.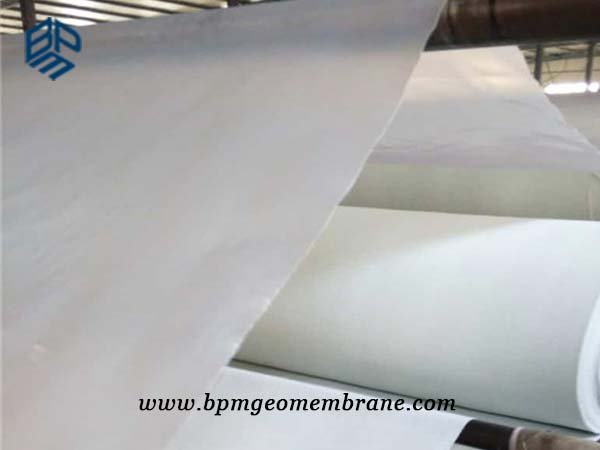 BPM composite geomembrane is in line with GB/T17642-2008 standard but with high quality, competitive factory price. The composite HDPE geomembrane has a width of form 1m to 6m and the thickness is 350-1500g. It has high strength, good extension performance, large deformation modulus, acid and alkali resistance, corrosion resistance, aging resistance and good anti-seepage performance which is not affected by climate and other characteristics. Composite geomembrane is mainly used in water dams, artificial lakes, airports, construction, environmental protection, water supply and other projects.
The artificial lake in southern Fujian is an artificial water storage lake project. To prevent the impoundment leakage, the design department carefully considered using 200 g/0.5 mm/200 g, a 6×50 meter/piece, and a composite anti-seepage membrane to lay the bottom of the lake. The Jiaonan Artificial Lake Project Department of the China Communications Industry Group has received bids, evaluated the prices of composite impermeable geomembranes, field inspections of multiple impermeable membrane manufacturers and other stringent processes, and selected BPM as the qualified supplier of the project. From June 2017 to April 2018, a total of 500,000 square meters of composite geomembrane was delivered, and 500,000 square meters of composite geomembrane was welded. Our installation team received praise from site supervision and the leadership of the China Communications Corporation. At this point, the two sides established a good cooperative relationship and laid a solid foundation for further cooperation.
About BPM
BPM had exported many types of effective and states of the art
geomembranes
,
geotextile
and other
geosynthetics
to over 36 countries. We are also
providing professional design and installation service. OEM and ODM are also available.